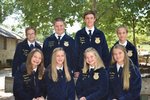 2017-2018 FCMS FFA Officer Team
Access the Franklin County Middle FFA Calendar:
https://www.google.com/calendar/embed?src=gnlbq1c90hreclo66ihvmmqvmk%40group.calendar.google.com&ctz=America/New_York
FFA is a national youth organization, previously called The Future Farmers of America. FFA reinforces the skills learned in the agriculture classes. It helps students develop their full potential in life. We hold FFA Meetings during and after school. They are conducted by the FFA Officers that are elected each spring. Our first FFA meeting is September 1. This meeting is going to be open to the entire school. We would like to invite everyone to come and see what FFA is all about. Beyond this first meeting, a student must be a member to attend.
FFA provides students with an opportunity to have fun, to travel, to make new friends, and still learn in the process. This year we will be going bowling, having cookouts, attending conferences and conventions, going to rodeos, and having other recreational events during the year. Students will have the opportunity to try out for one or more of our nearly 16 career development events such as parliamentary procedure, public speaking, livestock judging, land judging, creed speaking, FFA quiz, floral design, floriculture, and dairy judging. Students may exhibit cattle and swine in the many fairs and shows throughout Georgia. All students who join FFA will receive a free magazine, by monthly, called The New Horizons. Members will be invited to attend the Annual Awards Banquet at no cost.
I think that your son/daughter would have fun and learn a great deal from being in FFA. I would like to encourage you to allow your child to join. I can assure you that it would be a very beneficial experience to your student as well as you. The dues to join the FFA Organization are $12.00. If you would like for your son/daughter to be a member, please fill out the FFA Membership Data form that can be found on our "forms" page and return it with a check made payable to Franklin County Middle School. Students can return the check with the information to their PRIDE teachers. A membership card and receipt will be issued to each member. If you have any questions, please feel free to contact me.
Thank you, Anna Bellamy Watkins